Manju
"SakeManju"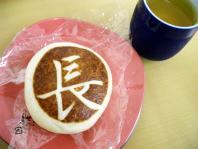 Manju is a bun stuffed with sweet bean paste. Manju consist of two parts which are "Kiji" and "Gu". Kiji is made by kneading flour. Gu is contents of Kiji such as sweet beans paste. Gu is wrapped by Kiji. Then it is steamed before serve.
The manju containing Sake(alcohol) let the flour ferment with malted rice. The shape is flat, and the mark which is the symbol of the shop is stamped on a surface of manju.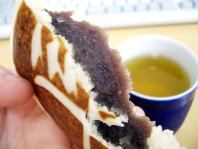 ◆Shop data◆
Nishisaka
Add.4-2-14 kitahonmachi, Mikuni-cho,Sakai-city
Phone.0776-82-0458
◆Price◆
1piece 110yen
"Yuki-Usagi"


It is Jyouyo Manju called "snowrabbit". Kiji is chewy like a rice cake. The reason is because it includes a yam in kiji of Manju.
Jyouyo Manju is red-and-white twin manju to distribute at the time of celebration.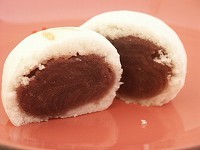 ◆Shop data◆
Oyadama-kaho
Add.2-20-15 jyunka, Fukui-city
Phone.0776-23-6353
◆Price◆
1piece 160yen
"Obama Manju"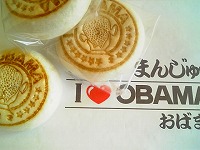 There is a city named "Obma" in southern part of Fukui prefecture. When Mr.Barack Obama
ran for the President, the people of the city supported him, though it was not asked. They were really excited on the day when he was elected the President. President's back figure is stamped on a surface of Obama manju.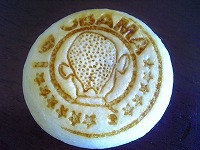 ◆Shop data◆
Inoue Kasho
Add.9-10 minamikawa-cho, Obama-city
Phone.0770-52-0199
◆Price◆
1box(5pieces) 630yen